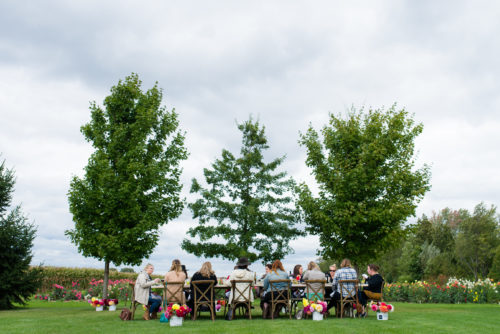 Blue is the New Green: Celebrating Earth Day at Blue Plate
Event Planning
Holiday
Learning
Sustainability
Blue is the New Green: Celebrating Earth Day at Blue Plate
Celebrating Earth Day means planting trees, picking up trash in your neighborhood, or deciding to walk to work that day, all of which make the Earth a little cleaner and greener. Here at Blue Plate, we care about protecting our environment not just on Earth Day, but every day. As the first Green Certified caterer in Chicago by the Green Restaurant Association we consider the environment at every stage of our business. Whether it be how our kitchen runs, how our food is packaged, or even what ingredients we use, we see how important this certification is to the guests we serve and could not be more proud of the recognition. Let's take a look at how these practices take center stage here at Blue Plate.
The Preparation
Our in-house kitchen, the place where all the magic happens, follows practices to ensure we are being as sustainable as possible. Our produce is delivered daily to ensure the freshest products. We also work with vendors who encourage the use of reusable and/or recyclable packaging. Our sales and operations teams even get a little creative at times and turn delivery boxes into usable pieces of equipment for upcoming events or deliveries!
With all of the action our chefs go through, our kitchen can get a little messy at the end of the day. And while working through the pandemic, we are increasing the level of disinfection our kitchen goes through to keep our employees and clients healthy. With some cleaning products though, you never really know what is in them and how harmful they can be to the environment and our bodies. Blue Plate uses environmentally safe cleaning products and hand soaps. Using products like these in your home can truly make a difference, but don't forget to recycle the packaging!
The Execution
Delivery:  We have see an increased need for individually wrapped items for the safety of guests. While this is a smart decision healthwise, it can lead to a lot of excess packaging not typical of our services. Luckily, we use a full line of Green Restaurant Association approved compostable paper products and disposables that come complimentary with each Delivery by Blue Plate order. With utensils made from vegetable starch, plates made from sugarcane, and cups made from compostable paper, our disposable items are as green as can be. Just be sure to properly recycle or compost them after your event!
Full-Service Events: While our event guests are focused on enjoying the delicious menu items, our event staff is focused on ensuring our green standards are upheld even outside of Larkin Hall. At each of our events, we follow recycling guidelines with glass, paper, and plastic products. We even recycle all real wine corks with ReCork, which recycles them into useful, self-sustaining products. Aside from monitoring food and bar stations, our event staff is in charge of monitoring all rental equipment and linens at events. We highly encourage the use of "real" equipment versus disposables when possible. China, glassware, and flatware that can be cleaned and used at many events over time is the most environmentally friendly option and our vendors take pride in their sustainable practices as well. It's the cooperation between our partners and event staff that makes all of the behind-the-scenes moments safe for our environment.
The Food
Of course, our food is what makes us stand out, so our Culinary Team places a large emphasis on where we source our products. We choose local and sustainable partners to provide us with our produce, meats, dairy, bread, and fish. Working with companies like Midwest Foods, we are able to buy directly from the source, eliminating potential food waste. To take it one step further, when requested, any leftover food following an event can be either composted with Healthy Soil Compost or delivered to the Chicago Food Depository to ensure there is less waste. If you're looking to donate leftover food from your event somewhere, let your Blue Plate Sales consultant know and they will handle it.