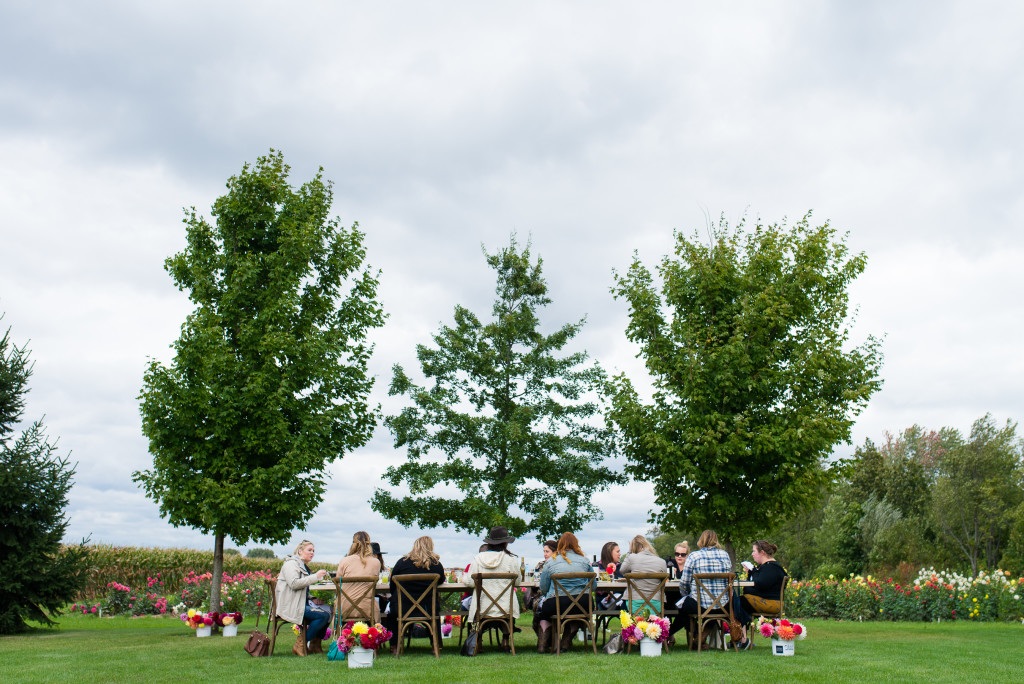 Reliving Creative Outdoor Event with HMR Designs at Hudsonville
It all started with a bride's quest for dahlias.
Which is how we found ourselves on a bus one day last fall with Brittanie Navarro and the team from Blue Plate's longtime partner and collaborator, HMR Designs. Destination: Hudsonville Dahlia Farm in Michigan for a farm-to-table lunch and flower-picking getaway. Brittanie wanted to host an informal lunch with the wedding planner using the farm as the backdrop, so she reached out to our team for inspiration. A simple menu request soon turned into a fully produced event; when people who cater events co-host events themselves, no opportunity is lost on the chance to create a memorable experience.
The day started off with a welcome morning package of our breakfast hand pies and signature strawberry pop tarts. Upon arrival at the farm, the "Sparkling Dahlia" drink greeted guests accompanied by seasonal passed canapés.
Inspired by the farm as the venue, Sales Director Niki Radovich worked to create an experience and menu that reflected the landscape. Elements like a rustic wooden table set with vintage china atop sliced wood chargers and touches of edible flowers throughout the display with colorful menu items reflecting the natural decor tied it all together. Dahlias from the adjacent farm completed the simple yet fresh tablescape. The three-course "Farm Luncheon" menu started with a braised, stone-fruit salad with a toasted almond-honeycomb vinaigrette followed by a pan-roasted chicken breast served with sweet corn and buttermilk bread pudding and roasted carrot puree. A blackberry lemon cake topped off the meal.
"When working together, Brittanie becomes an extension of our team, and vice versa," says Radovich. "As we concept an event, Brittanie and I will collaborate on the client's vision to complete a cohesive event experience in menu and decor."
Redefining Catering
The stereotype of a catering company usually elicits images of buffet lines, dark banquet halls, uninspiring wedding fare, and, the ultimate: dry, bland, rubbery chicken. Innovative? Most likely not. With a clear, simple vision in mind and our talented culinary team, we leveraged our long-standing partnership with our friends at HMR Designs to create an intimate, outdoor event reminiscent of a Julia Child/James Beard weekend soiree. In the current foodie conversation, it was a testament that an event like this isn't just reserved for Bon Appetit cover stories, pop-up restaurants, and chefs of the hour. Catering companies can shine in culinary expertise and innovation. And we do it effortlessly.
When you cater as many events as we do, particularly large-scale events, it's great to stop, slow down and meet at the table with our friends and partners to get inspired, to recharge and to remind us what this business is really about: hospitality. And at the core of hospitality is people. "It's important for us to take a break outside of our regular jobs and spend time with the people we work with," says Radovich. "This event was an exploration of the farm and provided us an opportunity to enjoy drinks and downtime while discussing inspiration and new event ideas with industry friends."
Whether it's our amazing culinary team pulling off plated dinners for 1,000+ people, designing innovative bites or our pastry team turning food into art; our sales team collaborating with our vast network of partners to design out-of-the-box events; or our service team offering some of the city's best hospitality, we are constantly amazed at the creativity and talent happening in our company. Catering is food and beverage, but we are a case study that it is and can be so much more. We are tastemakers, innovators, collaborators— the biggest foodies of them all. We create experiences; we make memories, we are happy people making people happy.
As we continue to get our toes wet in our new home, Larkin Hall, we look to inspire, ignite and bring catering and hospitality in Chicago to the next level. It may have started with a bride that needed dahlias, but it ended with collaboration, with partnership, and with friends gathering to recharge, refresh and get inspired for what's ahead.