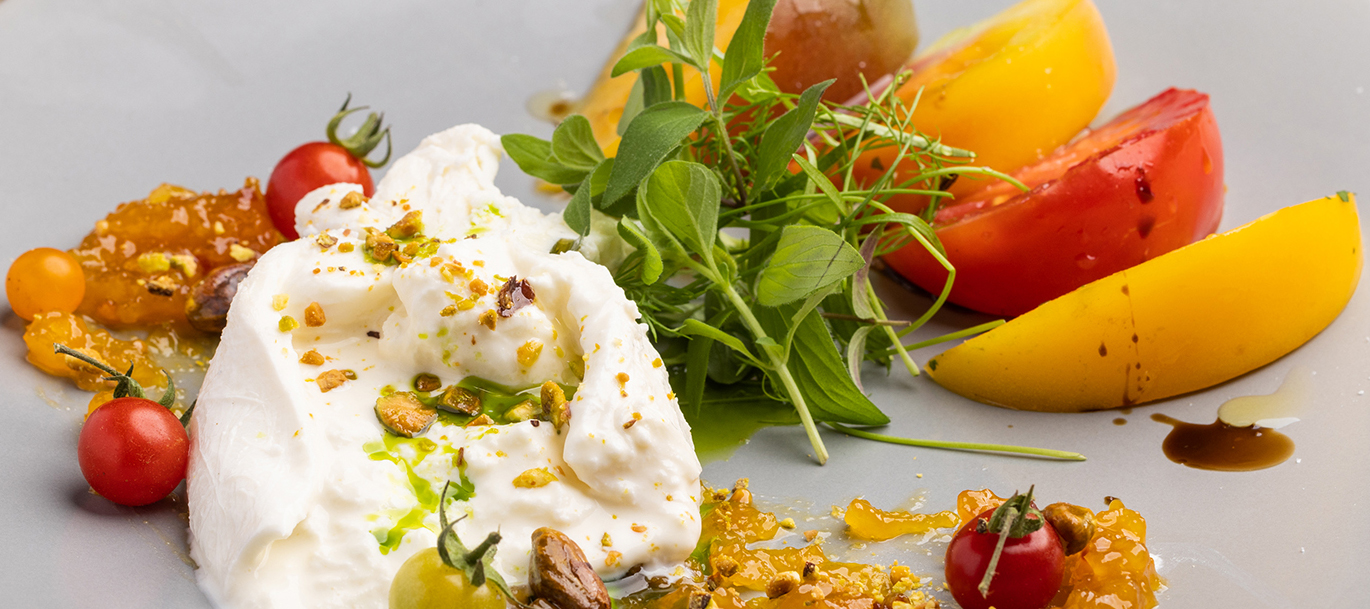 Nichols Farm Heirloom Tomato Salad
CHEF CHARLES HARACZ'S SUMMER 2023-INSPIRED RECIPE
Serves 10 people
---
Ingredients
Apricot Mostarda (Yields 1 ½ cups)

½ cup apple cider vinegar

1 tablespoon olive oil

1 cup diced dried apricots (6 ounces)

2 tablespoons sugar

1 shallot, minced

1 garlic clove, minced

2 tablespoons whole-grain mustard

1 teaspoon mustard seeds 

Salt

¼ cup of Calabrian chile (remove seeds & rinse)

Heirloom Tomatoes (6 tomatoes)

Sliced wedges (5 Slices per salad mixed colors if possible) 

Drizzled with EVO

Sea salt, fresh cracked black pepper, and sliced chives

Torn Basil (for garnish)

Basil oil (for garnish)

8 ounces of basil leaves

¼ cup grapeseed oil

Kosher salt   

Pea Tendril (clean pea tendrils)

Toasted Pistachios (8 ounces roughly chopped and sprinkled on burrata)

Buratta (five 4-ounce pieces of burrata) 

Cut into fourths (2 quarters per salad)

Finished with sea salt & chive oil 
Preparation: Apricot Mostarda
Heat olive oil in a small saucepan. 

Add Shallot, cook until light caramelization

Add mustard seeds, garlic, and Calabrian chile. Cook for a minute, add vinegar & sugar. 

Bring to a simmer stirring until the sugar is dissolved. 

Whisk in the mustard & add the apricots. Bring to a simmer & cook for about 12 minutes or until the mixture has a jam-like consistency. 

Chill in a mason jar or airtight container. 
Preparation: Basil Oil
Combine chives and grapeseed oil in a blender and puree.  

Bring the chive and oil mixture in a medium saucepan, heat up to 160F (or until it starts to bubble).

Immediately strain through a chinois (if you don't have a chinois, you can use a coffee filter!)

Once chilled, then transfer the oil to a squeeze bottle and reserve, keep refrigerated.