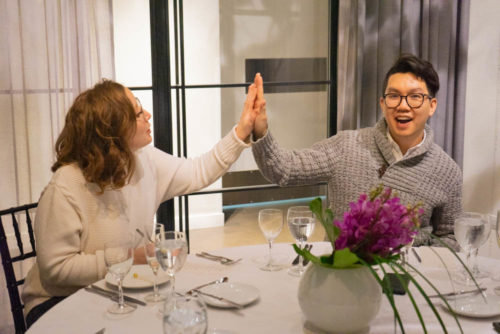 A Tasting with Blue Plate
Reo & Alyssa
Planning a wedding can be overwhelming, but when a couple can make quick and concise decisions that feel right for them, the planning process flows well. Reo and his fiance Alyssa, agree that the philosophy that drives their process forward is to "keep things simple."
Reo and Alyssa met by chance four years ago in front of his house and then cultivated their friendship through multiple hangouts coordinated by mutual friends. Alyssa made the first move, establishing their romantic relationship and eventually the couple took things to the next level. Last summer, they took a trip to Washington while Alyssa's family followed in secret. When the couple arrived at the botanical garden, Reo surprised Alyssa and proposed with her family in tow.
Venue Spotted
Reo usually has the most contact with their salesperson, Rachel Razowsky, by relaying messages from Alyssa to simplify things. For the venue, they were looking for a cozy space that is modern, industrial, and requires minimal decoration, so Rachel recommended A New Leaf. Alyssa fell in love with the venue after the first viewing. She admits to not being the best at decorating, and the multi-level interior, exposed brick, and flower shop fit all the requirements. This venue also has enough space to host the ceremony and the reception in one convenient location. Deciding on this was very quick, with Alyssa taking charge and Reo offering support with the other details, such as flowers, linens, and tableware.
The Tasting
Reo and Alyssa really want the menu to reflect their love for food with tasty items that they could share with their friends and family. In addition to offering delicious food to their guests, they wanted the items on the menu to represent who they are. Reo was born in China and lived there until he was seven years old, and Alyssa was born and raised in Florida. They requested dishes incorporating Asian spices with a southern influence. Alyssa really enjoyed the opportunity to try a variety of food recommended by Rachel, and the couple agrees her selections were spot on. For more details, see the full menu selection below.
Hors d' Oeuvres
New York Strip Skewer
Mini Maryland Crab Cake
Fish & Chips
Tuna Poke on a Rice Cracker
King Crab
Tomato Soup Shooter and Grilled Cheese
Mini Avocado Sope
Papaya Spring Roll
Buffet
Short Rib Slider
Cedar Plank Grilled Salmon
Lemon Risotto with Artichokes
Baby Arugula and Fig Salad
Grilled Vegetables
Assorted Dinner Rolls
Whipped Butter
Coffee Station
IntelligentsiA Regular and Decaffeinated Coffee & Tea Service
Dessert Options
8″ Round Wedding Cake
Black Dog Gelato Cart
Late Night Snacks
Steamed BBQ Pork Bao Bun
Mini Steamed Curry Chicken Bao Bun
Mini Steamed Tofu Bao Bun
Banh Mi Pockets