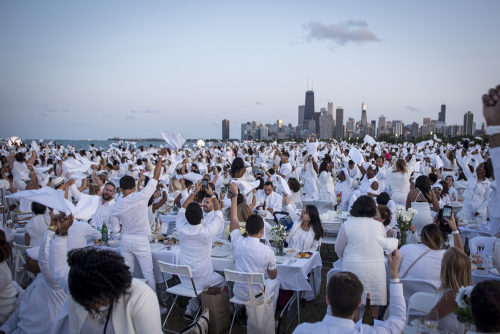 10 Ways to Use a Caterer (That's Not for a Wedding)
Culinary Culture
Event Planning
Weddings typically take the main stage when thinking about collaborating with a caterer, but the many ways to work with one span from the smallest, intimate gathering to large-scale, city-wide events; if there's food involved, rest assured, a good caterer can do it. "Outside of food, our caterer can always direct you with budgetary concerns, dealing with groups, wording on invitations, connecting with other vendors, event budgets, flow, menus, etiquette…it's what we do," says Senior Sales Consultant, Rachel Razowsky. Large or small and anything in between, we can do it all. Read more below on 10 Ways to Use a Caterer (That's Not for a Wedding).
1.  Corporate Events
Our capacity for large-scale events makes us a go-to for the many corporate events throughout Chicagoland. Last year, Blue Plate helped kCura, recently rebranded as Relativity, celebrate its annual Relativity Fest conference with a networking bash at The Field Museum in collaboration with long-time, décor partner HMR Designs. This year, we helped Relativity roll out the company's rebrand at their Summer Jam employee outing at Northerly Island with a special branded donut wall.
2. Award Parties/Galas
Outside of great food and exceptional service, a caterer can also be a terrific resource for elevating an event theme. For the 2016 Chicago Innovation Un-Gala honoring celebrity chef Rick Bayless, our team took inspiration from the theme of reinvention and Bayless' culinary contributions to Mexican cuisine. We created a unique, 3-course menu using signature ingredients that embody Bayless' culinary perspective and style. Dishes like Sweet Corn Polenta Ravioli and Sweet Tamale wove a delightful Mexican-themed, thread and provided a visual stunner for quests.
3. Holiday Parties
Holiday parties, whether social or corporate, are the perfect time to kick back and celebrate with family, friends and co-workers. And, the Blue Plate treatment can make it THE party of the year for your circle of friends or organization. With exclusive access to more than 85 venues around Chicago, including this year's premiere SNL Exhibit at Museum of Broadcast Communications, and custom-created menus, our event planning team can take the guesswork out of throwing a holiday bash.
4. Social Gatherings
Event the most intimate events can leave a lasting impression when set in the right space with the right details. Our new home, Larkin Hall in the West Loop Fulton Market District is the perfect venue for throwing a stellar birthday party, celebrating a wedding anniversary, or hosting an employee happy hour, all with a view of downtown from our second-floor terrace. Read more about our available venue spaces and what's coming down the road.
5. Delivery/Business Meetings
Did you know our award-winning catering is also available via delivery with our DIRECT from Blue Plate program. Imagine lunch meetings with specially packaged boxed lunches, ready-made buffets, morning presentations with fresh pastries, coffee and hand-held sandwiches or specialty snack packages for an afternoon refuel. Not only does DIRECT give employees something to talk about, it eliminates the hassle of focusing on food when you need to focus on other things. A dedicated customer and delivery team can guide you through creating a seamless drop-off program complete with all disposables that fits any of your in-office needs.
6. Boats/Outdoor Events
Our chefs don't need a professional kitchen to bring your event to life (we have magic tricks!). If you can dream it, we can do it. From classic farm-to-table events, to seafood-inspired Low Country Boils, to a summer boat cruise down Lake Michigan or the Chicago River replete with fancy hor d'oeurves and Champagne, the outdoors offer a creative way to engage guests without the confines of four walls. Passed hors d'oeuvres and Champagne are a big hit on boats as well as cheese and charcuterie platters, giving an event the "cocktail/fancy" feel without the fancy budget.
7. Chef Collaborations 
Throughout the year, we get the honor to collaborate with many of the city's known chefs on special menus and occasions including working side-by-side with James Beard award-winning chef, Sarah Grueneberg, for a special MasterCard event at Symphony Center this summer and Cleetus Friedman for the 2017 Dîner en Blanc at Theater on the Lake.
8. City-Wide Events
Feeding a city takes a lot of resources and time, and our involvement as an exclusive caterer for the Bank of America Chicago Marathon for more than 25 years is something we get excited about every fall. Last year we fed almost 4,000 guests our award-winning catering, and this year we anticipate more for the 40th anniversary.
9. Product Launches 
Using a caterer for a brand or product launch is a great way to create buzz and excitement for your company. Last month, we hosted more than 100 of Chicago Woman magazine's friends and network in our Terrace Room at Larkin Hall for the launch of their September/October fall issue and their second-year anniversary. Our space lends itself to various action stations and passed hors d'oeuvres, and our built-in bar makes it easy for in-house mixologist, Lov Carpenter, to shake up crafty cocktails.
10. Customized Menus
Customization isn't usually equated with catering but it's one of the biggest benefits you get when working with Blue Plate. Whether it's a special themed event to match your specific tastes, recreating your grandma's pie recipe for 100 people, or designing a whole menu for a group with special dietary restrictions, our talented culinary team can literally do anything.